Posted:
December 16th, 2011 |
Author:
Hillevi
|
Filed under:
Blog
Andrew Bird is a musical genius.  I hate to be repetitive, but read any concert review online and you'll learn the same thing: Andrew bird twists and weaves his melodies into complex instrumental and lyrical plots that leave one suspended on the edge of one's seat. He is amazing to see in a live performance.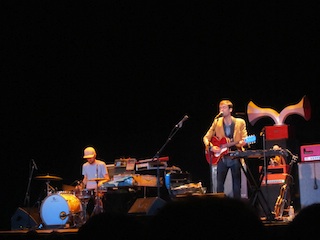 (more…)
Posted:
October 31st, 2011 |
Author:
Hillevi
|
Filed under:
Blog
|
Tags:
Halloween
,
music video
,
Skrillex
,
Thriller
I think the wmfo blog would be remiss to not post something related to best spooky songs to listen to this time of year.  Radio DJs have quickly exhausted their song choices over the course of this last weekend.  Every time Monster Mash comes over the speakers I cringe and think, "I swear if I have to listen to this song one more time I'll…" but then I get kind of into it and start singing along: "From my laboratory in the castle east, To the master bedroom where the vampires feast, The ghouls all came from their humble abodes, To get a jolt from my electrodes" [Note- is this song sexual?].  Thriller is also a well-known favorite that at least one station is playing as this very moment.
But one of the scariest songs I know (accompanied with video and everything!) isn't getting much play time this weekend. The song is called First of the Year (equinox) by Skrillex.  What could be creepier than a pedophile? Oh yeah- a demonic child could definitely be creepier.  I'm not a huge fan of Skrillex, but he seems to be getting ever more popular and his music extends beyond its dubstep / electro house genre.
And in case you couldn't finish the video and/or you are shaking from fright, the video below might be able to help you!
Happy Halloween!