Posted:
August 16th, 2013 |
Author:
DeenaAlexander
|
Filed under:
Blog
,
Reviews
|
Tags:
CONCERT REVIEW
,
x ambassadors
X Ambassadors may not be that well-known a band – yet – but they sure are a lively one to see in concert, especially at a small venue like Brighton Music Hall. With Sam Harris, a frontman who goes wild not only for the crowd, but with the crowd, they're an enthusiastic bunch who seem happy to be on stage and have a polished sound for a band that's officially only a couple years old. Unconsolable, their first single about growing up in Ithaca, NY, was clean and wonderfully performed; I walked out humming it under my breath. (more…)
Posted:
April 4th, 2013 |
Author:
DeenaAlexander
|
Filed under:
Blog
,
Reviews
|
Tags:
CONCERT REVIEW
,
Sigur Rós
The stage is hidden by a white scrim on all four sides – the audience is restless. We've been waiting for almost an hour, expecting opening acts which never materialized.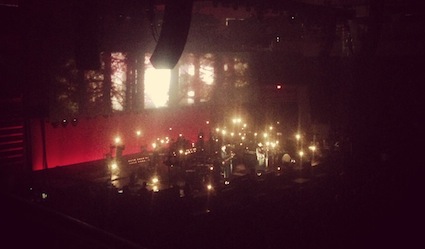 Finally the lights go out – except for the ones onstage. The curtain becomes a screen, dizzying abstract shapes floating around as the music starts. Sigur Rós' frontman, Jónsi Birgisson, begins with Yfirborð, immediately crashing his bow down on the guitar in his signature style. The curtain is still up, but now things are taking a distinctly different turn – the shapes are still barely intelligible, but there is the unmistakable feeling that we are witnessing art as they move, synchronized with the music. Circles and close-ups of iron filings and things moving in liquid mingle with definite human movement in a bizarre and beautiful dance.
Posted:
March 13th, 2013 |
Author:
DeenaAlexander
|
Filed under:
Blog
|
Tags:
citizens!
,
Interview
The London-bred five-piece band Citizens!, has been compared to Franz Ferdinand.  In fact the producer behind the band's music, Alex Kapranos, also worked with Franz Ferdinand as well as David Bowie.  But Citizens! have worked hard to cultivate their own, unique sound. Their debut album, "Here We Are," was released in May of 2012, with several songs on it garnering huge critical acclaim – notably, poppy number "True Romance," which is difficult not to dance to. They're touring North America right now, and I had a chat with vocalist Tom Burke while they were in Boston on March 5th playing Brighton Music Hall. You can check their tour schedule here.