Posted:
December 16th, 2011 |
Author:
Hillevi
|
Filed under:
Blog
Andrew Bird is a musical genius.  I hate to be repetitive, but read any concert review online and you'll learn the same thing: Andrew bird twists and weaves his melodies into complex instrumental and lyrical plots that leave one suspended on the edge of one's seat. He is amazing to see in a live performance.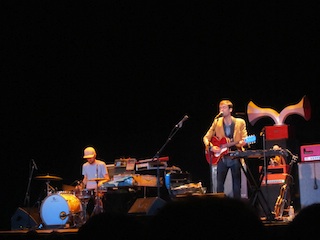 Mr. Bird is a classically trained musician. He cites the composer Claude Debussey as one of his musical influences and it is not difficult to see a resemblance between their work: both contain a fine mathematical structure While Debussey relied on whole orchestras to achieve his musical intentions, Bird layers tracks, loops them back through his signature rotating specimen speakers, and harmonizes with earlier tracks to produce the orchestral sound.  His signature sound is strengthened by the venues he chooses.  I've been lucky enough to see him perform three times to date.  The first concert was in a high school auditorium with stadium seating back in 2009.  St. Vincent opened.  More recently, in November, 2011, I've seen him at the opera house in Skowhegan, Maine and at the Capitol Center for the Arts in Concord, New Hampshire. Both venues are old fashioned town auditoriums with low-lying, creaking seats, and paint-chipped murals depicting local  history.
Dosh, the opening solo act for Bird's fall tour, has a similar way of manipulating his own instantly recorded tracks through a seemingly complex looping mechanism.  I could not find a word in my musical vocabulary to describe Dosh's sound, (or Andrew Bird's for that matter, although they differ) and so I approached him at his merch table to see which category he felt he fit into.  He said he struggled to place himself in any coined genre, and he supposed simply "post…everything".  I enjoyed Dosh's performance but it lacked the connection with the audience that was felt so strongly during Bird's series.  Dosh by default must face away from the viewer for half of his time on stage to operate the switches and knobs of his instruments.  At times you feel excluded from his musical process as he makes adjustments to his sound. Still, you can tell Dosh is an incredibly talented musician and I really enjoyed his set. One highlight of the night was when Bird and Dosh shared some stage time to develop a couple improvisations with each other. The bass drum addition to Bird's whistles and violin was a unique combination.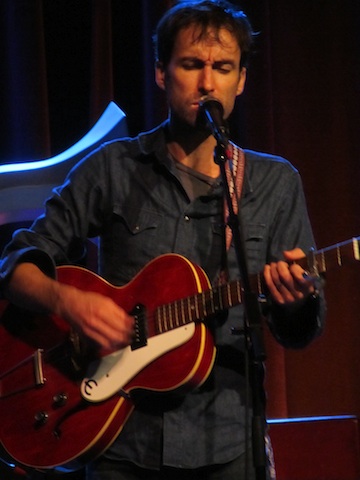 One of the opening songs of Bird's set was Why?. Of myriad reasons to see Andrew Bird live, a compelling one is that you inevitably gain insight to the back stories, origins and meanings of his songs.  Bird explained to us that he has been opening shows with the song "Why?" because he finds it cathartic.  It is a beautiful, empathic song and its execution was riveting.  I always thought it was an address to an unrequited love, but I've since heard that the piece at least originated from an incident with a roommate. Mr. Bird also explained a bit about the history of "The Swimming Hour".  Part of the story is that he was living in an apartment hotel in Chicago where there was a health club pool regularly frequented by Jesuit priests and nuns during the hour designated for laps.  Loud opera blared above the surface of the water.  Bird imagined the swimmers bobbing up for air to sound of the opera's arias and cadenzas before submerging back below with inhaled breath.
It is nice that Bird invites us into his songs.  His performance is raw and emotional and the input he shares on particular songs' meanings help us to dissect his lyrically and melodically beautiful, but often cryptic, poetry. I have used songs of his to study for an oceanography exam (read: Radiolarians from "Masterswarm") and for the GRE vocabulary section [Bird supports an immense vocabulary: please, Mr. Bird! Don't think me a sycophant for pointing it out!].  It's clear that Bird works hard to develop material to his satisfaction. The violin itself is notoriously difficult to master and is infrequently seen in contemporary genres besides country's fiddle. My appreciation for his music grew exponentially upon the realization that even seemingly nonsensical lyrics are rooted in meaning through word play or structural patterns (think palindromes).  I have to admit, I was impressed a second time by the self-reflection and literary talent he conveyed in his blog for the New York Times
(http://measureformeasure.blogs.nytimes.com/2009/04/20/encores/#Bird)
The encore was electrifying. Bird sang his cover of Kermit the frog's "Bein' Green"-, which is arguably the best song of the entire Muppets cover album, The Green Album. Here it is in French. He rejuvenates the song with new depth. He also is featured in the new Muppet Movie: I'll post the link here, though it may be removed from youtube soon. Last year Bird created the original soundtrack for a coming of age picture called Norman (2010), and his new album Break It Yourself will be out March6th.