Posted:
February 29th, 2012 |
Author:
Catherine
|
Filed under:
Blog
|
Tags:
review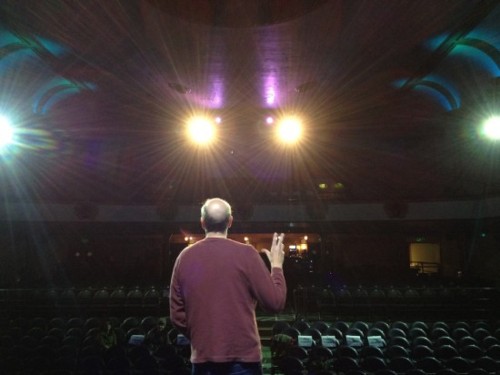 Describing Stephen Tobolowsky as "the bald guy in Groundhog Day" is guaranteed to get one of two reactions: "I never saw Groundhog Day" or "Ned!"

Apart from being a memorable character actor, Stephen Tobolowsky is a fantastic storyteller. His podcast entitled "The Tobolowsky Files" with host David Chen on slashfilm.com is a series of mundane stories that could have happened to anyone but , lucky for the listener, they happened to someone who not only manages to remember interesting details but is capable of telling them in an extremely powerful way. Monday night at the Coolidge Corner Theater, using his personal experiences to discuss larger ideas of creativity and faith, Stephen Tobolowsky enraptured the audience.
Tobolowsky described after the show how David Chen approached him with the podcast idea after coming across "Stephen Tobolowsky's Birthday Party" and shortly after Tobolowsky broke his neck. Bedridden, Tobolowsky agreed because, as summarized by Chen after the story, "he had nothing better to do."  Tobolowsky structured the podcast as a formal setting for his storytelling rather than the "chit chat" he hears everyone else throwing up on the internet.
This decision, along with his undeniable talent, garnered interest from a few radio outlets (including NPR), enabled Tobolowsky and Chen to schedule a tour of live theater performances and landed Tobolowsky a book deal with Simon & Schuster (The Dangerous Animals Club will be published in August).
Finding out more about people you admire for their skills and creativity is often discouraging. It's rare to find someone with a genuinely kind heart be this funny and entertaining. At the very least, if there was such a thing, Stephen Tobolowsky would be voted "least likely to make you regret following them on Twitter."
(image via slashfilm.com)