Posted:
April 11th, 2012 |
Author:
MikeConway
|
Filed under:
Blog
|
Tags:
Classic Rock Mine
,
Pretty Thigs
,
S.F. Sorrow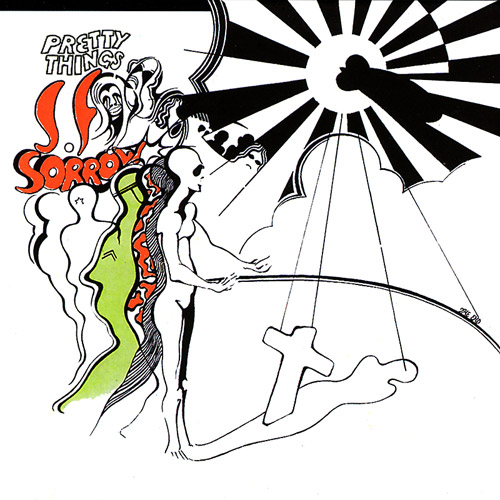 Formed back in 1963 by former Rolling Stones bassist Dick Taylor, the Pretty Things' raw sound and rowdy live shows made them a top club act in the UK. However the band's failure to tour the US contributed to the Pretties being eclipsed by The Stones in popularity. The band developed a decidedly more psychedelic style with the release of their 1967 LP Emotions, but it was the groundbreaking 1968 rock opera S.F. Sorrow that should have made the band huge.
Released one year before Tommy, SF Sorrow was critically acclaimed upon it's release in the UK. Unfortunately the LP was not distributed in the increasingly important US market until well after Tommy hit store shelves. Needless to say US fans did not buy S.F. Sorrow. To most US rock fans, S.F. Sorrow remains little more than a classic rock footnote. That's a shame, because it's a great album. I was fortunate enough to sit down with the Pretty Thing's Dick Taylor and Phil May and gain some insight into this ground-breaking work.
Mike Conway: Can you talk a little bit about how the S.F. Sorrow album came about because obviously that has been a real signpost in the history of rock.
Phil May: We had reached a point, as Dick said, beyond the pop thing, and we had done all that. And I think really it was for our own preservation that we had to find another way or we were getting a bit bored with it. It is like we had done it for four or five years and the singles. It seemed that we needed something more to get our teeth into, to sustain our interest, otherwise, I think we would have stopped. And it was in some ways our salvation, that we found another way of making a record that held our interest and took us into the next stage. Otherwise, I think we would have stopped at that point and just been a pop band with bad boy overtones. The opportunity to go to the best studio in the world, spend a year with Norman Smith was a great working, when you got the Beatles in the other studio and Pink Floyd in the other. The whole sense of Abbey Road was kind of an exciting place of invention and people trying to push the envelope. I remember it as being probably one of the most creative, stimulating periods in my life. It was a wonderful feeling you know.
Dick Taylor: And also there was a feeling of, when we were doing that, it was more like we are working on an artistic project rather than we are producing a piece of product for a record company.
Phil May: Commercial. This is going to be the next commercial big thing. We didn't have any illusions that maybe we were going to have, but we did feel we were doing something, which is important.
Dick Taylor: That really was in our minds and it wasn't just like, oh we got to do so many songs to fit an album, it was actually a conceived of piece which we wanted to complete. It didn't spring sort of like out of the air, but we had to really work on it. But Phil's story and everything, we just knew, oh now we have to do a song which kind of fits this and sometimes the song would come and the story would change.
Phil May: It was making new demands on us. We were writing for a particular character, like Baron Saturday. We had to come up with something musically which suited his character. So that was exciting. So again, we had found a different way of making music. Whereas the story was driving us. And we had good songs around the time we didn't use. There was another song which didn't make the album called "Cardinal of Regrets", was another character, but we couldn't get into that, it just stayed on the sidelines because the story ruled.
Dick Taylor: Let's dig that out again. If you can remember it.
Phil May: I found the drawings for it the other day.
Dick Taylor: I never, I can't remember it.
Phil May: It was different enough that, you know, if I was doing lyrics, there would be pages of drawings for that song. And then from that, the lyrics would come, after it had been visualized. What was happening? The balloon burning. And then the lyrics would come next. So I had a sketch book full of drawings.
Dick Taylor: And then we would be beating away putting riffs together and things and what have you.
Phil May: So it was a very visual– That's what I mean, it was very visual. For me it was visualized before the text came. The visual image was there before the text.
Mike Conway: Do you think the work still holds up today?
Phil May: You have to answer that.
Dick Taylor: It seems to, because this is, people seem to be saying it does.
Phil May: Young kids are hearing it for the first time, find it quite stimulating.
Be sure to check out Classic Rock Mine, Saturday nights from 9pm-11pm, to hear the music of the Pretty Things and other obscure classic rock goodness.