Posted:
January 30th, 2013 |
Author:
Evan
|
Filed under:
Blog
|
Tags:
the strokes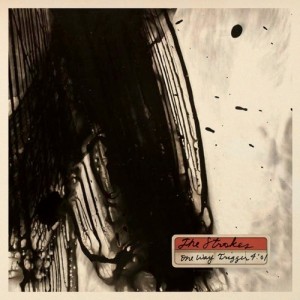 Surprise!  The Strokes just popped out a new tune called "One Way Trigger" as if we all knew it was coming.  Well of course, the Strokes were about due for a tease since 2011's "Angles" record.  And yeah, there are still Strokes fans out there who remember the thrill of "Is This It?" and the excellent yet under-appreciated "Room On Fire".  So hey, even though the Strokes may now be considered rock veterans, predictably steady, or even old hat, when the Strokes release a new song lovers and haters are going to spin it at least once.
But … this tune.  This is The Strokes?!  As one Soundcloud commenter mentioned, the anxious electronic hook that carries the song comes across as an A-Ha ripoff.  Then there's frontman Julian Casablancas, who tries the ill-advised route of mid-nineties J Mascis and that Crash Test Dummies guy by singing in a mumbled falsetto.  The first minutes of the song are truly challenging to listen to. Thankfully Casablancas' voice finally takes on a familiar tone and eventually the rest of the band shows up.  There is a guitar solo a third of the way in that resembles the old Strokes and thank goodness. If a saxophone solo broke out instead then we would know the eighties were truly back.
Hold on, I'm not finished with Casablancas.  He is all over the place in this song, at points singing in a low falsetto, then a half-baked monotone, and finally a cloud surfing falsetto that nearly matches the Bee Gees.  On repeated spins the hook catches on and the singing becomes less jarring. Nonetheless, the song, as well as Casablancas' new vocal approach, will likely polarize fans. Listen to the track on the bands' soundcloud.