Posted:
February 1st, 2013 |
Author:
NewMedia
|
Filed under:
Blog
|
Tags:
house of blues
,
Purity Ring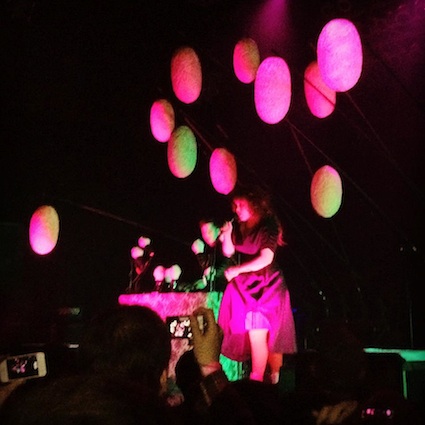 Purity Ring's music feels precious to me. When I say "precious" I don't mean it the way some people describe things that are overly cutesy or twee. I mean that the electro-indie duo, comprised of Megan James and Corin Roddick, treat their music as if it is precious. I don't say this just because of the band's slow and careful songwriting process. Each song feels to me like a cut jewel, sharp, precise, bright, and clear, to be handled with care and awe. Or at least that is how I felt when I saw Purity Ring play at House of Blues on Wednesday.
Singer Megan James barely spoke the whole show and Roddick, the producer/composer didn't say anything at all. They just walked on stage and played through their album, slightly out of order, but with few surprises save the Soulja Boy cover at the show's tail end. Normally I would be disappointed with such a concert. I like spontaneity and artists who interact with their audience. For Purity Ring, though, it felt like the music itself hovered above both audience and artist as a separate entity we had all come to appreciate.
This is part of the magic of Roddick's production, even in mp3 form the music feels expansive and nearly tangible. Live, Roddick's chest-buzzing bass and hip hop beats are even more compelling, and it is impossible not to dance along. To complete the multi-sensorial experience, Purity Ring have developed a visual aspect to their live show, with glowing chrysalis-like lanterns hanging over the stage. In addition, Roddick actually used drumsticks to "play" the smaller lanterns that line his MIDI console.
At the center of the stage was James, her girlish and clear voice soaring out over the audience. She is a mostly reserved performer but she has a fierce gleam in her eye as she sings and her movements are quietly dramatic. There were moments in the performance when it looked like she was carefully trying to pick the music out of the air around her.
The set opened, as the album opens, with the strange "Crawlersout," and closed as one might expect, with internet favorite "Fineshrines." In between, "Lofticries" was a definitive highlight as was the band's surprising take on Soulja Boy's "Grammy." Still each song could well stand on its own, each equally precious.
Blogger extraordinaire and editor of Rookie Magazine, Tavi Gevinson just wrote in her editors letter for February something that has solidified for me how I felt walking out of House of Blues on Wednesday. It is her "goofiest-sounding secret," she says, that she believes in magic.
"Sometimes I call it God and sometimes I call it light, and I believe in it because every now and then I read a really good book or hear a really good song or have a really good conversation with a friend and they seem to have some kind of shine to them."
I'm not trying to make some point about religion here. But when I read Tavi's words this afternoon, I immediately thought of the kind of "shine" or sparkle I associate with Purity Ring's music. When I left the concert I felt like I was sparkling too.