Posted:
February 7th, 2013 |
Author:
Catherine
|
Filed under:
Blog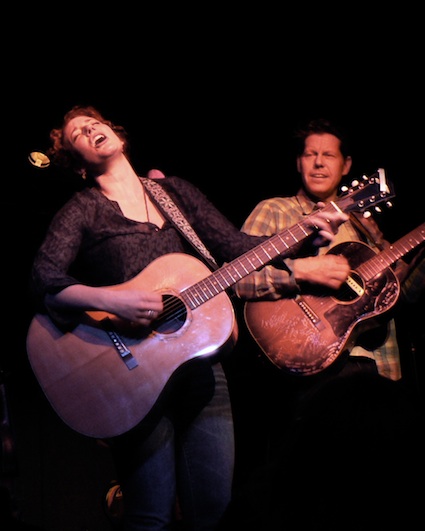 Watching Beyonce swing her hair around during the Super Bowl halftime show, my mind started to wander over to another dynamic and extremely different musician I had seen recently. Reflecting on Kathleen Edwards' performance last week at Brighton Music Hall, I came upon a version of the same question I ask myself about most of my favorite artists: Why isn't Kathleen Edwards more popular? I might append "in the US" to that as all of Canada will politely remind you that Kathleen Edwards and hockey belong to them.
Kathleen's songs are highly emotional, but not overtly autobiographical. She's pulled tragic stories from headlines, writing from the first person of a murder victim in "Alicia Ross."  Tuesday from the stage she alluded to her depression and earlier in the week she had instagrammed a photo of a book she's reading on the topic. Where other artist's might capitalize on such personal struggles, either purposefully or accidentally, Kathleen is more guarded in the press than she is with her long-time fans. Salon ran an article when her latest, most personal album Voyageur was released in 2012 with the headline "Kathleen Edwards: This will be called my divorce album." The subtitle read, "In a Salon exclusive, the singer discusses her brave new CD — and her new relationship with a Bon Iver heartthrob." Not once in the article did she ever mention Bon Iver or her divorce.
Popular American Songstress, Taylor Swift goes out of her way to leave clues fueling speculation about which celebrity her latest hit single is about. Her games lead to news outlets like The Huffington Post inviting readers to "Guess the man who wronged Taylor Swift." Beyond the scandalous appeal, listeners identify with Taylor's heartache and envy the public honesty that would have adverse repercussions in a normal person's life.
On her latest album, Fiona Apple went ahead and titled a song "Jonathan" after her ex-boyfriend Jonathan Ames. It reads like a personal, unfiltered parting letter she mistakenly brought into the studio on recording day. As much as I love Fiona Apple, she's cultivated (wittingly or not) the "sexy unstable woman" persona on and off stage. The music video for "Criminal," which showcased the scantily clad singer lounging in a house of hungover, drugged out partiers, was meant as an indictment of music videos selling heroin chic to kids. I think Apple gave her fellow teenagers too much credit. She later used her MTV Music Video Award speech as a platform to publicly denounce the imitation of such behavior. Sadly, her passion and lack of tact in her speech garnered more attention in the media than the idea she was trying to get across.
As someone who already has a very positive image in the press and public eye, Beyonce has been more successful in redirecting her spotlight. Soon after the recent presidential inauguration, it was revealed that Beyonce lip-synced the national anthem. During her press conference before the Super Bowl, Beyonce sang the anthem live to dispel rumors that she was incapable of doing so.  As the applause from her performance died down, one reporter questioned the timing of publicity for her new movie "Life Is But A Dream,"asking "why now before the Super Bowl?"
The film includes information about aspects of Beyonce's life that she has kept private such as life with her new daughter and the miscarriage she had during a previous pregnancy. Beyonce slightly dodged the question answering, "it was time for people to get to know me." That may have been why she made the movie, but obviously the national anthem mishap and flashy Super Bowl performance were sparkly, controversial bookends for something that might not otherwise get such widespread attention: Beyonce's personal views of who she is as a person, mom, performer and artist.
I prefer to think it is only Kathleen Edwards' refusal to sensationalize her personal life that keeps her under the American radar. Realistically, that's like being dumbfounded that I haven't won the lottery yet. A lot of luck goes into popular success in the music business. There are also tiers to fame and notoriety. If Kathleen Edwards had dated Jake Gyllenhall and written a song about it instead of spending time and attending the Grammys with "Bonny Bear," more people might have heard of her.