Posted:
February 8th, 2013 |
Author:
NewMedia
|
Filed under:
Blog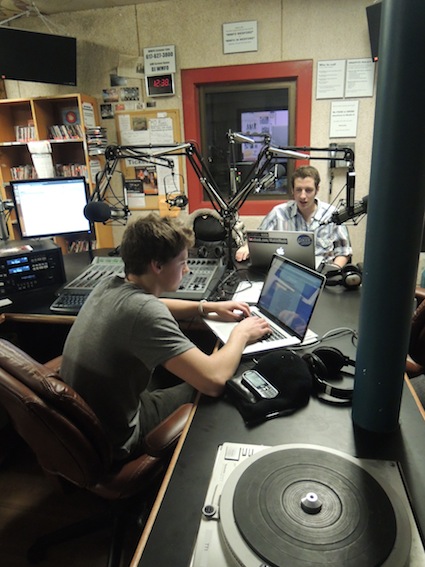 The Danger Zone, with DJs Slam Dunk Tha Funk and IVK, always opens with the Kenny Loggins song for which the show is named and always finishes with "All We Do is Win" by DJ Khaled.  From week to week, what will happen in between is anybody's guess, though the DJs certainly put an emphasis on hip hop.  When I came by WMFO to interview Slam (Sam) and IVK (Ian) this Wednesday at midnight, Slam was queuing up the next three songs: "Adorn" by Miguel, "Love Sosa" by Chief Keef, and "I Knew You Were Trouble" by Taylor Swift.  "When you write this article you're going to want to talk about my live editing skills," he told me.  These skills were put to the test almost immediately, cutting out all the curse words on "Love Sosa,"  a relatively tame song compared to most of Chief Keef's discography.  The rest of the playlist was equally diverse, featuring A$ap Rocky, Mumford & Sons, and indie up and comer Autre Ne Veut.  Listen to The Danger Zone every Wednesday night from Midnight to 1 am and read my interview with Slam and IVK below the jump.
How long have you been at the station?
S: Since freshman year (Fall 2010)
Why did you join?
S: I made Ian.  I had some friends who were older here and they had a show.  I got to do it with them when I visited and I really liked it.  Ian agreed to do it only so long as we played Kenny Loggins at the beginning of each episode.
I: I pretty much remember him telling me we had a radio show and that it was The Danger Zone.
What is your show theme or format? How did you develop it?
S: I think we do a good job of making our show as random as possible.  It's unintentional, especially when we choose themes.  They're so arbitrary.
I: I play classic rock in the second half of the show and that's the only good part.
Do you have a regular audience?
I.  We have 18 million listeners.  Many of them are children under the age of five.
But Actually
S: We're just kind of throwing it in the air.  We get random listeners who occasionally call in.  Sometimes they're not even crazy which is a bonus.
I: Last year La Casa and the Latino Center were pretty regular listeners.
Do you think there are any other shows like yours at WMFO?
S: No
I: There are some shows that play hip hop.  They're lame though.
Who is that one artist that might make you speechless, cry, and/or faint if you met?
S: Kendrick Lamar? No, I would be composed.  Kendrick would be the favorite but maybe Chief Keef.  I wouldn't know what to say because he might shoot me.
I: The boss.  I'm serious.
If your song is ending and you don't have anything queued up, what is your go to?
I: I'll probably end up playing the first thing on my iTunes which is "Take on Me" by a-ha.  I think that's actually happened a couple times.
Name an artist or band people should know about but don't.
S: Autre Ne Veut.  Or Chance the Rapper.
Vinyl, CDs, iTunes, or illegal downloads?
I: I have other people illegally download music for me.
S: I download basically everything unless its a CD I really want.  I buy vinyls sometimes because they're fun.
Who would you let your love adorn?
I: I would have to say [my girlfriend].  But Brad Pitt is a very close second.  Surprisingly close.
S: This is pretty meta but I would let my love adorn Miguel.