Posted:
February 13th, 2013 |
Author:
Catherine
|
Filed under:
Blog
|
Tags:
The Americans
,
TV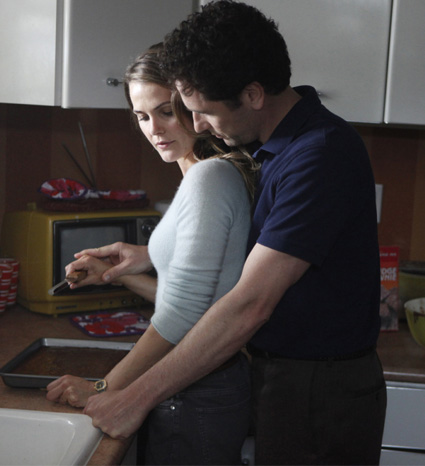 The Americans, the new TV drama on FX, follows married KGB sleeper agents living in the US as they carry out missions that are too violent, or sometimes sexually explicit, for a primetime audience. Hopefully this new drama won't die in the mid-week, late-night spot.
The dynamic of these particular spies, essentially living in an arranged marriage, is built on patriotism and rigid structure that, roughly 15 years and two children in, begins to unravel. Keri Russel as Elizabeth Jennings militarily outranks her husband, Philip (Mathew Rhys) and struggles with the decision of whether or not to report his faltering allegiance to Russia. The easy living in America, with climate controlled homes and luxuries available to anyone willing to pay, tempts the couple to permanently defect as much as their growing attachment to each other and their family.
Watching the cold, militaristic Elizabeth struggle to connect with her teenage daughter becomes about more than the generational gap. It is challenging to psychologically reconcile images of Philip playing catch with his boy one moment and the next moment blackmailing a woman during a mission by torturing her young son. It will be interesting to see the characters develop as the Cold War missions become more dangerous and they figure out how to work around their newest suburban neighbor, FBI agent Stan Beeman.
The Americans airs Wednesdays at 10PM on FX. Catch up by watching the first two episodes online.