Posted:
February 27th, 2013 |
Author:
NewMedia
|
Filed under:
Blog
|
Tags:
Iron & Wine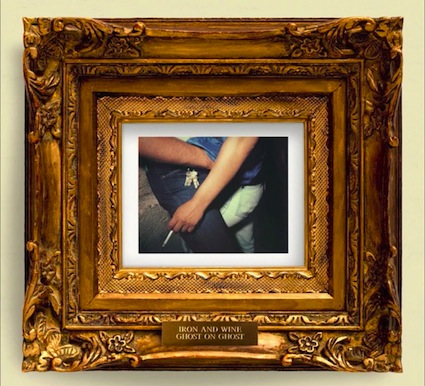 In the beginning, Iron & Wine was a one man outfit.  Sam Beam made intimate folk albums with nothing but an acoustic guitar, whispery vocals, and a prodigious beard.  He stirred hearts with his gentle songs about love, god, and family, all softly tinged with a southern sensibility.  Then long before indie folk went the way of top 40, Beam changed his sound entirely.  With the 2007 release The Shepherd's Dog, Iron & Wine went electric, shifting to a full band with a robust and fanciful sound.  Beam surprised fans again in 2011 when he expanded Iron & Wine even more to include a full brass section.  The album, Kiss Each Other Clean, was far funkier than folky.
Set to drop on April 16, the band's new album Ghost on Ghost promises to be something new again, even as it is also an amalgamation of all the styles that have come before. On January 31st, the band dropped the album's first single, "Lover's Revolution," featuring a low growling brass section and walking bass.  The arrangement is really based in Jazz, a sound the band has been courting in its live shows.  This Monday, the band released  another single "Grace for Saints and Ramblers." Much about the song is familiar, from the ever so Beam-ian title to the choruses of oohh's which could have come straight off the last album.  Though melodically repetitive, the song builds from verse to verse with added layers of sound, including the signature brass of Kiss Each Other Clean plus the the surprising addition of disco violins.
While leading his ever expanding band, Beam has truly become a lofty composer, treating listeners to stunning, multifaceted arrangements.  But for me, the greatest pleasure of Beam's music lies in his poetic turns of phrase.  The breathlessly wordy verses on "Grace for Saints and Ramblers" are endless lists of memories and characters: "there were jumped up punks and jesus freaks weaving in and out of trouble wrapping round and round a leash."  It is a pleasure to listen to the song on repeat and allow different characters to reach out and grab you.  One time it will be the people "chewed up and swallowed by the prophet they were trying to follow."  Next it will be the "hopeless sinners and sweepstakes winners."
The list goes on until it seems he can't possibly cram another image into a verse.  Then Beam finally breaks into the sighing chorus: "But it all came down to you and I."  Beam's winning cast of saints and ramblers goes completely unnoticed by the song's focal couple.  They are so absorbed with each other and so couched by their own plenty ("Seed for the field and grease for the wheel") that they never entertain or even bother to say grace.  Ever surprising, Beam has woven an impressionistic and unexpected story of blinding love: "And we never wondered why because the sun was in our eyes."