Posted:
March 1st, 2013 |
Author:
BelindaRawlins
|
Filed under:
Blog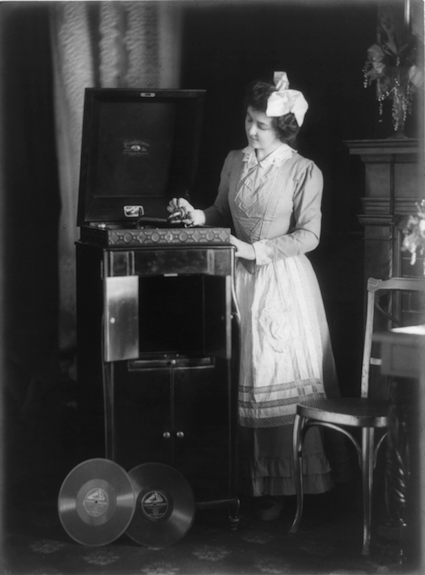 Think about the first recorded sound you can remember.  Think about when it was recorded.  Try to recall what format it was in.  Could you play it today if you needed to?  Could you even find it?
This month the Library of Congress released it's long awaited and congressionally mandated National Recording Preservation Plan.  It provides the blueprint for the public and private sector to work together in saving America's recorded sound heritage.  It takes on issues from preservation infrastructure (how are we storing this stuff?) and access to education and policy.
Consider this: it is estimated that over half of the titles recorded on cylinder records – which were the dominant but not exclusive format used in the first 23 years of recording – are gone.  That's it.  Just gone.
Those were physical recordings.  What does that mean for today's cloud based recordings?
But losses aren't limited to format.  In 1978, a fire in an Atlantic Records storage facility (non-air-conditioned, by the way) destroyed virtually all of their unreleased masters recorded from 1948-1969.  Masters from the Coasters, the Drifters, Aretha Franklin and Ray Charles (Bubbles in the Think Tank listeners were particularly distressed over the loss of the only known recording of "Monkey Lupe Lu" from Harvey Fuqua) were lost in the damage.
And it's not just physical and format challenges.  Our outdated copyright laws block the preservation process at every turn.  Conservators cannot legally make a digital copy of any recording unless that recording has already begun to deteriorate.  With older analog recordings, the challenge of getting permission to make copies before the deterioration has begun can be near impossible as rights holders can't be found or the rights have transferred to multinational corporations who don't care about anything that doesn't make money for them.
Now, just for the fun of it, let's say you know what recording you're looking for.  Today there is no efficient way for researchers, let alone the general public (artists and musicians, this means you), to discover what sound recordings exist and where they can be found.  Even if you manage to find a source online, copyright restrictions may well limit availability.
At least now we're thinking about it.  Recommendations in the Preservation Plan include:
1.  Create a publicly accessible national directory of institutional, corporate and private recorded-sound collections and an authoritative national discography that details the production of recordings and the location of preservation copies in public institutions;
2.   Develop a coordinated national collections policy for sound recordings, including a strategy to collect, catalog and preserve locally produced recordings, radio broadcast content and neglected and emerging audio formats and genres;
3.  Establish university-based degree programs in audio archiving and preservation and continuing education programs for practicing audio engineers, archivists, curators and librarians;
4.  Establish best practices for creating and preserving born-digital audio files;
5.  Develop a basic licensing agreement to enable on-demand secure streaming by libraries and archives of out-of-print recordings.
There are 32 recommendations in all, and I recommend that you read them.  In the name of freeform radio, I hope we can support the funding and policy work that will be needed to make these happen.  We can pretend that recordings will last forever or we can make sure that you can hear The Gumm Sisters' "The Land of Let's Pretend" whenever it needs to be played: