Posted:
April 17th, 2013 |
Author:
NewMedia
|
Filed under:
Blog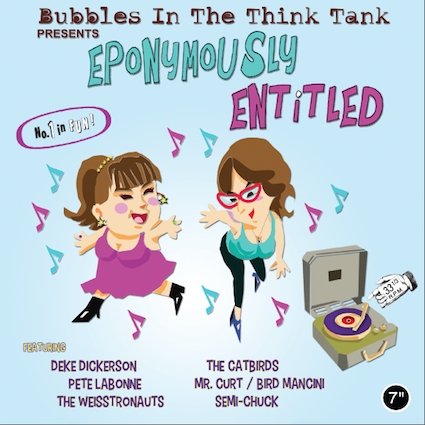 "I'm sure we've all got stories about how vinyl changed our lives."  So opens "Solar Vinyl Compactor" the third track on Eponymously Entitled.  The second release from the Bubbles in the Thinktank label, Eponymously Entitled is a record about records for record store day.  It is a cleverly assembled seven-track compilation (with two bonus tracks) packed full of nostalgia and in-jokes about a music culture I never experienced.
I was born into the age of the cassette.  I received exactly one mix tape in my lifetime, made by my super cool teenage aunt, with 90s hits like the Cardigans' "Lovefool."  Soon cassettes were irrelevant, completely overtaken by compact discs.  I barely went anywhere without my Discman and my furry, leopard spotted CD book.  Briefly, before the mp3 player took off, my brother had a bizarre contraption called a minidisc player.  Today, of course, the little compressed mp3 file has completely changed the music landscape.  I have seen so many music formats come and go but I do not have any stories about how vinyl changed my life.  In fact, I confess, I have never even used a record player.
Nevertheless, records are making a kind of comeback, thanks in part to events like record store day.  The nostalgic music nerds of my parents' generation are not the only ones keeping record stores afloat.  Despite (or perhaps in reaction to) the easy availability of MP3s, many of my peers have begun their own record collections.  Still, I am glad that all the songs on Eponymously Entitled are by musicians who grew up before CDs and iPods. These days, we rarely treat music listening as an activity unto itself. The songs on Eponymously Entitled speak to a time when music technology required active participation from the listener and a teenager could spend whole afternoons hunched over the record player.
"Stacks of Wax" by The Weisstronauts, is a short, lugubrious track that zeros in on the sensuality of records themselves—the waxy grooved surfaces—before urging the listener to lay back, relax, and drink in the music.  SEMIchuck's hokey, tongue-in-cheek "Format Collector" takes Eponymously Entitled up to the present day, with the tale of a music listener who keeps buying the same Beatles albums in newer formats.  At the end of the song, Semi-Chuck even winks at hipster record culture when he exclaims, "Translucent 78's of the White Album numbered and hand-pressed by Japanese school girls in a Brooklyn store window?  Oh man, sign me up!"
Deke Dickerson's "Bop Wax" is a definite highlight, a rollicking rockabilly throwback.  The song dares you not to get up and dance, as Dickerson sings about his date with a phonograph.  The whole record is great, clever, quirky, and sometimes bizarre (Pete LaBonne's "Down With It").  But even if every other track on Eponymously Entitled fell short, The Catbirds' "Playin' Records" would make the whole record worthwhile.  A bluesy rock song with hints of country, "Playin' Records" ironically takes the perspective of a frustrated father who can't get his son interested in anything other than his record collection.  "He plays that stuff so loud we cant hear ourselves think," the father explains wearily, "He's getting to an age when he oughta be interested in girls, not records!"
I may not have grown up listening to records, but the song transcends its medium as an ode to any teenager who has spent whole afternoons just blasting music in their room.  I feel like The Catbirds are winking right at me in the last verse when they sing, "He's surely not the only little jerk in the nation playin' records."
Eponymously Entitled goes on sale this Friday, April 19th and you can order it here or to see the songs performed live check out the record release party.