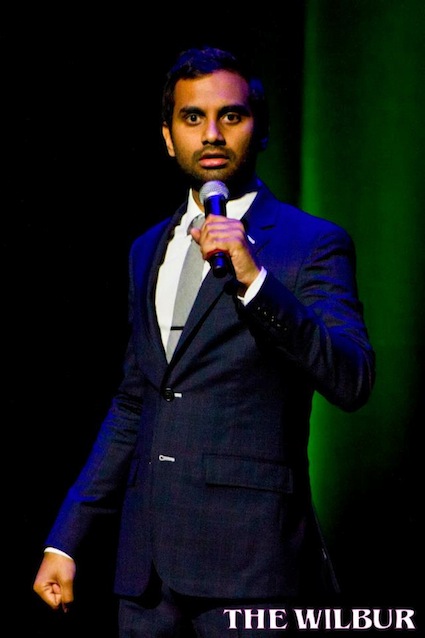 Aziz Ansari is ready for his blurry phone photo (source)
Sunday night in Boston, comedian Aziz Ansari performed a benefit for the Boston Marathon bombing victims at The Wilbur Theater. Tickets for the show, announced only hours before they went on sale, sold out in five minutes. Ansari's fans, hooked into social media, were ready to pounce at noon causing him to say that those in attendance Sunday frightened him a little. Ansari went on to stand still center stage encouraging everyone to take their photos of him before he started any jokes. Anyone who didn't have a camera out proceeded to hold up their phone and snap away. Ansari remarked, "This is what I have to do now."
Despite large notices printed on tickets, bag searches, and pre-show declarations, concertgoers refuse to heed the warnings of unenforceable stipulations against taking photos during a show. Even when the request comes straight from their favorite performer, people are unable to control their flashing devices which, at best, only serve to get you super sharp photos of the back of your fellow audience members' heads.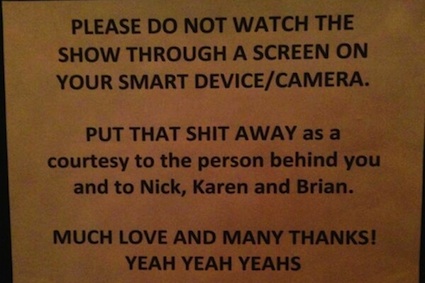 Yeah Yeah Yeahs "No Camera" sign outside show (source)
The photography policy at live shows varies from venue to venue. No matter the performers' requests, it's up to the staff to enforce the mandates. Staff reactions range from the militant–flashlight shining in the eyes of anyone taking a photo–to the lax, not caring if someone tries to record the entire concert with their iPad.
If you're sitting in the first five rows at a Bob Dylan concert, you might find your reflection staring back at you from the stage. Dylan uses the requisite pre-show declaration but has instructed his crew to take preventative measures as well in the form of large, view obstructing mirrors facing the audience. Strategically placed in front of the spots he'll be occupying throughout the night, it isn't immediately obvious that these mirrors are meant to reflect flashes back at offending cameras thereby ruining the intended photos.
Like Dylan, many artists are annoyed by flash bulbs while they're trying to perform. Still, others are more concerned that those who come to the show expecting to see the band often find themselves surrounded by hundreds of glowing cellphone screens held high by their distracted owners.
An argument from both pro- and anti-photography audience members, often blurted in frustration after a dispute, continues to be "I paid money for this ticket!" Is either party in the wrong? What rights and expectations are afforded to people paying to attend an event?
At least one organization equates money with decorum. OregonLive reported about upcoming free concerts this May by the Oregon Symphony:
"The musicians want listeners to toss etiquette out the window. Not all etiquette. Don't expect to stand on your chair and sing along. But you will be encouraged to take photos, tweet, text and clap anytime the spirit moves you."
Ansari doesn't have any trouble selling tickets but for ensembles like The Oregon Symphony that may not be the case.  Their disclaimer seems like a desperate attempt to connect with audience members, hopefully encouraging them to attend more traditional ticketed events.
In a social media consumed culture, people have become addicted to the satisfaction that comes from disseminating their presence at an event across various online platforms. Experiencing what is happening right in front of them becomes secondary or even unnecessary. After the fact, the distracting "work" going on during a performance continues to yield positive results. The socially connected patron gets positive reinforcement in the form of likes, hearts, shares, and envious comments from those not in attendance. The performer may not like the distraction, but they don't want to turn off their fans or totally discourage the free publicity social media provides.
On his last tour, Jack White felt the need to clarify his seemingly anti-social media stance via a message on his Third Man Records label's website:
"The only thing that we've ever asked of the audience is to not take pictures or videos while holding up their cameras, phones, etc that block other peoples view or otherwise hinder other fans concert experiences. Along with that, the bigger idea is for people to experience the event with their own eyes and not watch an entire show through a tiny screen in their hand."
During the tour, White had a professional photographer taking photos throughout the show, from the stage, which were then posted online. Fans can easily find the show they attended on White's website and share them on Twitter, Facebook, Instagram and any other place they try to make friends jealous.
The "not watch an entire show through a tiny screen" comment seems to be the prevailing performer sentiment. Performers have taken to personally doing pre-show announcements telling their fans to cool it with the yelling, photos, and other distracting behaviors. Before their September show at The Orpheum, on behalf of himself and St. Vincent (Annie Clark), David Byrne made a meek appeal from backstage over the theater PA asking the audience keep photos to a minimum. Byrne referenced "tiny screens" and, as captured in a fantastic NPR produced video, explained all the prep the band had gone through to choreograph the stage show on this particular tour. If you were trying to take photos at some points during the show, you'd miss David Byrne popping his head up like a gasping fish while lying on the stage motionless for the rest of the song. (full disclosure: I was taking photos like my life depended on it during a few songs.)
Usually, if you are able to sneak a photo taking device into a show, whether it's your cellphone or pocket sized point and shoot, using it discreetly and not emitting an obvious glow or click will keep you in the clear. The woman who excitedly stood to take a photo when Aziz Ansari returned for an encore, after being offstage for about 30 seconds, elicited a "really?" from Ansari along with more jokes about social media. He suggested showing people the earlier photo and saying it was taken during the encore in order to then mock your friends' stupidity. Ansari managed to walk the fine line of making fun of his fans while not alienating them. He and Jack White should get together.