Posted:
August 16th, 2013 |
Author:
DeenaAlexander
|
Filed under:
Blog
,
Reviews
|
Tags:
CONCERT REVIEW
,
x ambassadors
X Ambassadors may not be that well-known a band – yet – but they sure are a lively one to see in concert, especially at a small venue like Brighton Music Hall. With Sam Harris, a frontman who goes wild not only for the crowd, but with the crowd, they're an enthusiastic bunch who seem happy to be on stage and have a polished sound for a band that's officially only a couple years old. Unconsolable, their first single about growing up in Ithaca, NY, was clean and wonderfully performed; I walked out humming it under my breath.
Harris spends the entire time interacting with the audience, leaning in and loving all the applause he gets when he plays guitar, saxophone and drums – in that order. The other members are also into it – from what I saw, the keyboardist – Sam Harris' brother, Casey – had his eyes closed practically the entire time, jamming out only to the sound. They ran through their entire released repertoire, as well as some new songs, before I realized I'd heard them before: they opened for Imagine Dragons in July. Some digging revealed that Imagine Dragons' frontman, Dan Reynolds, was a big fan of theirs – and frankly, it's no wonder. The energy the band puts off is infectious, and everyone in the crowd was clapping along by the middle, and only got louder by the end. They do a spectacular job of their catchy emotional rock, and they're getting rewarded for it.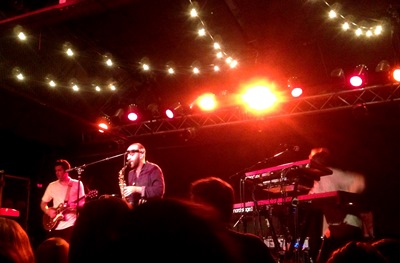 They're headlining shows all over the country, including at Austin City Limits this October. See them – I guarantee a good time.