Posted:
February 2nd, 2014 |
Author:
NewMedia
|
Filed under:
Blog
February's arrived, and that means things are thawing out here in good old Massachusetts. In an effort to equally thaw out my music collection from having approximately one playlist on repeat all winter, I've been on the hunt for new bands and new albums to keep track of.
An old favorite of mine to find bands has been NPR's First Listen series, which has historically hosted a lot of amazing albums before they were available for public release – including Grouplove's Spreading Rumours, among others. Spotify and Pandora also have their place in my heart, shiny bite-sized sampler tables that they really are.
But I'm not here to talk about those. I'm here to talk about my latest online music-aggregating obsession: NoiseTrade.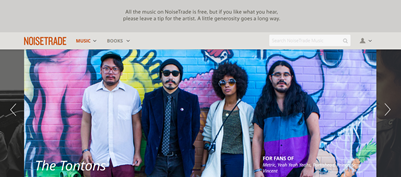 Now, my friends will tell you that I've been yelling about this site for approximately half a year now, so I figured it was time to yell on the internet a bit. With a beautiful site layout that makes finding music you like incredibly easy, the pretty graphics and accurate "this band sounds like…" features lure you in handily. The best part? It's all free.
NoiseTrade bills itself as "[helping] artists build their fan email lists by giving away free music in exchange for email addresses and postal codes." Bands like Bronze Radio Return and Duologue, which haven't really taken off yet but are still producing remarkable-quality sound, can put their own music up on NoiseTrade for free download – though all downloads will ask for a courtesy tip of pay-what-you-want – and downloaders automatically sign up for their elists. Other artists, including fun. and Sufjan Stevens, who have a huge and devoted fanbase already, put music up as a gift of sorts.
Of course, as a college student, I'm a natural fan of anything that gets me free music in a completely legal manner. As a student of the media world, this is an amazing marketing tool. Not only is the layout beautiful, but so is the system they have – you can sample any of the songs that they have in their database before downloading the albums, so you know what you're getting into. The what-it-sounds-like pulls up more popular bands to give you a good idea – "This is for fans of Keane and Brandon Flowers," says the description of Colony House's EP. The NoiseTrade weekly emails do slightly more extensive profiles of that week's front-page artists, all working in an impressively coherent marketing machinery.
All in all, I love this site, and you should love it too. Look out for next week's feature on the next Boston Calling lineup – it's going to be an amazing three days, I think.