Album Review: Parcels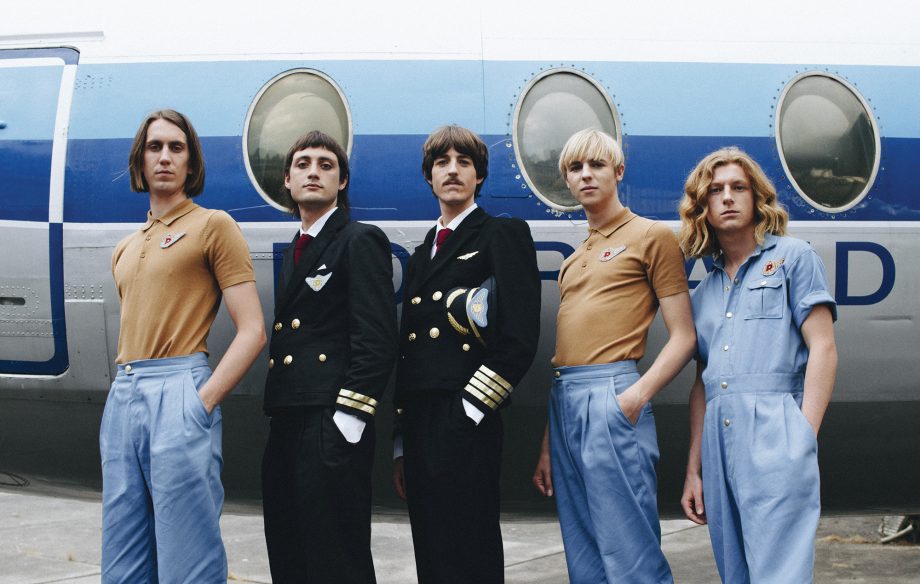 The Aussie 5-piece deliver a retro yet futuristic debut album that revisits the sounds of their Daft Punk collaboration while simultaneously defying categorisation.
Released: 12 October 2017
Following the release of their self-titled debut album this month, Australian band Parcels shared a video to accompany the track "withorwithout." A classic slasher tribute, it features none other than Milla Jovovich as its lead, juxtaposing the innocuous light-disco and Toto aesthetic of the five band members with a dark and bloody home intruder plot.
It's safe to say Parcels are having a good time. I mean, you would be too, if Daft Punk approached you after a gig and asked to produce your next single; if Milla Jovovich outed herself as a superfan and offered to star in your music video. The band members aren't taking themselves too seriously – evidenced by the album's closing credits, where Berlin rapper Dean Dawson intersperses a laundry list of contributors to the album with such pearls as "don't get yourself burnt 'Cause the Parcels album was damn hot."
Parcels is a fun album. Its first two songs, "Comedown" and "Lightenup", are smoothly stitched together; a seven-minute introduction to the group's low-key but hook-filled disco sound. They foreshadow the sometimes playful, sometimes melancholy (but always catchy) tunes that follow, completing a record that sounds like an imagined collaboration between the Beach Boys and Giorgio Moroder with 21st century production technology.
To the casual listener, the album could blur into 51 minutes of cheeky disco riffs with a similar sound. No doubt, some will be disappointed by a lack of real jazzy experimentation. But the pleasure of Parcels is in the layers, the callouts, the ability to hint at melancholy without taking away from the album's almost unbearable lightness.
For example, after 1:09 and 2:23 in "Tape," a little arpeggiated riff emerges and somehow takes the listener to a historic French town streetscape. The next track, "Everyroad," has a much darker undercurrent. An eight-minute, spoken-word exploration of an isolated house as a metaphor for the mind, it pays structural tribute to Daft Punk's "Giorgio by Moroder" – no experimental jazz break, but complete with orchestral interlude and a deep synth finish absent from the rest of the album (and perhaps a nod to MGMT's "Little Dark Age").
The Beach Boys-esque "Yourfault" comes next, an ethereal slow jam, with airy vocals and xylophonic arpeggios that recall the last dance of the night at a 1960s high school homecoming. From there, "Closetowhy" and "Iknowhowifeel" start to kick things back into disco gear, with those characteristic daft punk arpeggiated synth lines making a reappearance. Then comes "Exotica" with some almost Fleetwood Mac "Dreams" sounding keys and guitar, before "Tieduprightnow" (released earlier in the year as a single) explodes with an iconic opening riff that simultaneously suggests dancing and summer road-trips. "Bemyself" rounds out the album with a reassuring message of authenticity (check out the live New York Rooftop version here) before the comical aforementioned "Credits."
Parcels is an album that stretches behind and ahead of us, reaching into the annals of disco, rock and folk to create something that sounds inescapably futuristic. The influence of Daft Punk is clear but not oppressive. It's a multi-occasion, multi-genre listening experience that, for just under an hour, lets you float away from today.